Residential Building Typology
Building Type Matrix
classification scheme for residential buildings --- construction year classes --- pictures of example buildings
(►explanations)


Generic Building Types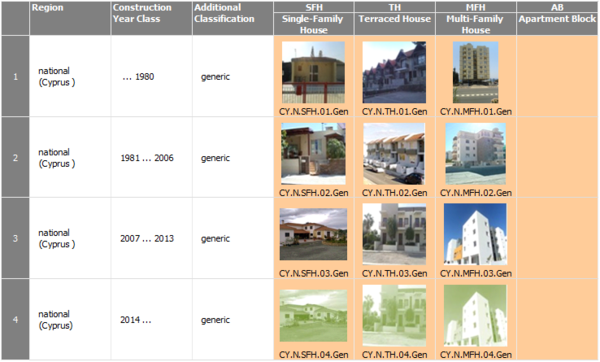 Last updated: 02.09.2014
National Typology Brochure
example buildings --- typical energy consumption values --- effect of refurbishment measures --- building display sheets
(►explanations)
Statistics of the Cyprus Building Stock
systematical overview --- available statistics for residential buildings and heat supply systems
(►explanations)
Overview
| | | | |
| --- | --- | --- | --- |
| Statistical Table | Item | Available | Sources |
| S-1.1 | Frequency of building types of the national building stock | yes | [1], [4] |
| S-1.2.1 | Percentage of thermally refurbished envelope areas | yes | [2] |
| S-1.2.2 | Information on insulation level and window types | yes | [2], [5] |
| S-2.1 | Centralisation of the heat supply (for space heating) | yes | [1], [2] |
| S-2.2 | Heat distribution and storage of space heating systems | no | |
| S-2.3.3 | Heat generation of space heating systems (type of heat generator) | yes | [1], [2] |
| S-2.4 | Heat distribution and storage of domestic hot water systems | no | |
| S-2.5 | Heat generation of domestic hot water systems | yes | [1], [2], [3] |
| S-2.6 | Solar thermal systems | yes | [1], [2] |
| S-2.7 | Ventilation systems | no | |
| S-2.8 | Air-conditioning systems | yes | [1], [2] |
| S-2.9 | Control of central heating systems | no | |
| S-2.10 | Correlation of envelope an heat supply modernization | no | |
| S-3.1 | Domestic energy consumption | yes | [1] |
[1] Source: Cyprus Statistical Service, Census 2011.
[2] Source: Buildings' Typology Cyprus, Cyprus Energy Agency, May 2012
[3] Source: G.P. Panayiotou, S.A. Kalogirou, G.A. Florides, C.N. Maxoulis, A.M. Papadopoulos, M. Neophytou, P. Fokaides, G. Georgiou, A. Symeou, G. Georgakis, "The characteristics and the energy behaviour of the residential building stock of Cyprus in view of Directive 2002/91/EC"
[4] Source: Cyprus Land Development Corporation, Statistical data.
[5] Source: Energy Service of Cyprus
Last updated: 04.09.2014
Statistic S-1.1: Frequency of Building Types of the National Building Stock
Construction Period
SFH
single family houses
TH
Terrace houses
MFH
multi-family houses
from
to

No. of

Buil-

dings

National

sq. meters.

TABULA ref.
(1000 m2)
(0,85*A_C_

extdim)

No. of

Buil-

dings

National

sq. meters.

TABULA ref.

(1000 m2)

(0,85*A_C_

extdim)

No. of

Buil-

dings

National

sq. meters.

TABULA ref.

(1000 m2 )

(0,85*A_C_

extdim)

1

…
1980
58524
7485301
6362.51
7874
773464
657.44
13524
1447645
1230.5

2

1981
2006
98025
17975224
15278.94
8277
928174
788.95
39366
4088088
3474.87

3

2007
….
19278
3762191
3197.86
1670
201056
170.9
17236
1537614
1306.97
TOTAL
175827
29222716
24839.31
17821
1902694
1617.29
70126
7073347
6012.34
Last updated: 08.11.2013
Statistic S-1.2.1: Percentage of Thermally Refurbished Envelope Areas
Percentages related to building numbers of the whole national building stock
Percentage of modernized element area (with improved thermal protection)
Walls' insulation
7.5 %
roofs / upper floor ceilings' insulation
5.5 %
basement / cellar ceiling insulation
0.8 %
windows*
43.2 %
Different
0.4 %
No insulation
54.4 %
Last updated: 08.11.2013
Statistic S-1.2.2: Information on Insulation Level and Window Types
Typical values for insulated buildings' envelopes
Brick wall(20 cm) with 3 cm insulation and plaster
0.614 W/m²K
Beams and columns / reinforced concrete with 3 cm insulation
0.808 W/m²K
Flat roofs / reinforced concrete with 5 cm insulation
0.553 W/m²K
Floor / marble or ceramic with 5 cm insulation
0.534 W/m²K 2,0 W/m²K
Double windows with aluminum frame
3,7~3.8 W/m²K
Typical values for non-insulated buildings' envelopes
Brick wall 20 cm with plaster
1,4 W/m²K
Beams and columns / reinforced concrete
2,8 W/m²K
Flat roofs / reinforced concrete
3,3 W/m²K
Floor / marble or ceramic
2,0 W/m²K
Double windows with aluminum frame Single windows with aluminum frame
6,0 W/m²K
Last updated: 08.11.2013
Statistic S-2.1.1: Centralization of the Heat Supply (for Space Heating)
Percentages related to number of buildings for the whole national building stock
| | |
| --- | --- |
| Centralization of the heat supply | (%) |
| Central heating system | 29,3 |
| Room heating system | 69,1 |
| No heating system | 1,6 |
Last updated: 08.11.2013
Statistic S-2.1.2: Centralization of the Heat Supply (for Space Heating)
Percentages related to number of buildings per size
Size of Building
SFH
Single Family Houses
No. of Buildings (%)
TH
Terrace Houses
No. of Buildings (%)
MFH
Multi Family Houses
No. of Buildings (%)
Central heating system
71490 (40,16 %)
2308 (12,8 %)
15176 (21.1 %)
Room heating system
102619 (57.65 %)
15221 (84.5 %)
53195 (73.8 %)
No heating system
3902 (2.19 %)
475 (2.7 %)
3701 (5.1 %)
Last updated: 08.11.2013
Statistic S-2.3.3 Type of Heat Generator
Size of Building
SFH
Single Family Houses
No. of Buildings (%)
TH
Terrace Houses
No. of Buildings (%)
MFH
Multi Family Houses
No. of Buildings (%)
Central heating oil
60201 (33.8 %)
1,823 (10,1 %)
11,186 (15.5 %)
Central heating gas
4770 (2.7 %)
188 (1 %)
416 (0.6 %)
Central heaters electric)
6519 (3.7 %)
297 (1.6 %)
3,574 (5 %)
Accumulators (EAC)
3588 (2 %)
190 (1,1 %)
3,874 (5.38 %)
Solar heating system
450 (0.3 %)
39 (0.2 %)
129 (0.2 %)
Air-conditioning with hot air
40304 (22.6 %)
5,826 (32.4 %)
31,873 (44.2 %)
Fireplace
13841 (7.8 %)
1,206 (6.7 %)
747 (1 %)
Electric heaters
16087 (9 %)
2,890 (16.1 %)
8,468 (11.7 %)
Gas heaters (gas)
24520 (13.8 %)
4,460 (24.8 %)
6,809 (9.4 %)
Oil heaters
3742 (2 %)
608 (3.4 %)
1,291 (1.8 %)
Other kind of heating
87 (0.05 %)
2 (0.001 %)
4 (0.005 %)
No heating system
3902 (2.2 %)
475 (2.6 %)
3701 (5.1 %)
Last updated: 08.11.2013
Statistic S-2.5: Heat Generation (DHW)
Percentages (number of buildings) related to solar systems for the whole national stock
| | |
| --- | --- |
| DHW System | (%) |
| Solar collectors (only) | 81.7 |
| Autonomous electric heater with cylinder combined with solar collectors | 2.9 |
| Autonomous electric heater with cylinder (only) | 0.7 |
| Autonomous heating gas with cylinder | 1,0 |
| Electric heaters combined with solar collectors | 4.2 |
| Electric heaters (only) | 2.5 |
| Gas heaters combined with solar collectors | 2.8 |
| Gas heaters (only) | 2.1 |
| Other | 2,1 |
Last updated: 08.11.2013
Statistic S-2.6: Solar Thermal Systems
Percentages related to dwellings in per size of buildings
Solar thermal systems
SFH
Single Family Houses
No. of Buildings (%)
TH
Terrace Houses
No. of Buildings (%)
MFH
Multi Family Houses
No. of Buildings (%)
For heating water only
164482 (92.4 %)
16281 (90.4 %)
65429 (90.1 %)
For heating the house and water
1395 (0.8 %)
56 (0.3 %)
330 (0.5 %)
To produce electricity (photovoltaic)
548 (0.3 %)
7 (0.04 %)
25 (0.03 %)
No solar thermal systems
9642 (5.4 %)
1417 (7.9 %)
4546 (6.3 %)
Last updated: 08.11.2013
Statistic S-2.8: Air Conditioning Systems
Percentage related to dwellings in the whole national stock
| | |
| --- | --- |
| Air conditioning systems | National Building Stock (%) |
| Split units | 82 % |
| No local cooling systems | 18 % |
Last updated: 08.11.2013
Statistic S-3.1: Domestic energy consumption
End use household energy consumption, 2009
Annual energy consumption / category
| | | | | | | | |
| --- | --- | --- | --- | --- | --- | --- | --- |
| Energy product | Unit | Space heating | Hot water | Space cooling | Cooking | Appliances - lightning | Total |
| Electricity | KWh | 642 | 382 | 1.107 | 554 | 3.603 | 6.288 |
| Heating Oil | litres | 331 | 24 | - | - | - | 355 |
| Pure Oil | litres | 42 | 2 | - | - | - | 44 |
| Natural Gas | kg | 50 | 8 | - | 67 | - | 125 |
| Biomass | kg | 231 | 2 | - | 11 | - | 244 |
| Coal | kg | - | - | - | 48 | - | 48 |
| | | | | | | | |
| Electricity | kgoe | 55 | 33 | 95 | 48 | 310 | 541 |
| Heating Oil | kgoe | 284 | 20 | - | - | - | 304 |
| Pure Oil | kgoe | 35 | 2 | - | - | - | 37 |
| Natural Gas | kgoe | 55 | 9 | - | 74 | - | 138 |
| Biomass | kgoe | 83 | 1 | - | 4 | - | 88 |
| Coal | kgoe | - | - | - | 34 | - | 34 |
| total | kgoe | 512 | 65 | 95 | 160 | 310 | 1.142 |
Annual energy consumption / household area
| | |
| --- | --- |
| Household Area (m2) | Annual Energy Consumption (kgoe) |
| < 51 | 406 |
| 51 - 100 | 639 |
| 101 - 150 | 998 |
| 151 - 200 | 1.470 |
| 201 - 250 | 1.731 |
| 251 - 300 | 1.946 |
| 301 - 350 | 2.157 |
| > 350 | 2.745 |
Annual energy consumption by category gross household income
Gross Annual Household Income
(€ 000')
Annual Energy Consumption (kgoe)
<= 10
587
10 - 20
895
20 - 30
1.147
30 - 40
1.435
40 - 55
1.624
55 - 70
1.845
70 - 100
1.870
>100
2.895
Last Update 05/10/2011
COPYRIGHT © :2011, REPUBLIC OF CYPRUS, STATISTICAL SERVICE
Last updated: 04.09.2014
End use household energy consumption, 2009
Energy use for space heating
HOUSEHOLD AREA, HEATED DURING THE ANNUAL COLD PERIOD
(%)
< 51 m2
41,0
51 - 100 m2
25,9
101 - 150 m2
15,6
151 - 200 m2
10,1
201 - 250 m2
4,0
251 - 300 m2
2,4
301 - 350 m2
0,7
> 350 m2
0,3
PRIMARY SYSTEM TYPE FOR HEATING
(%)
Central Heating
29,2
Solar Central Heating
0,1
Heat pumps
0,0
Split units for heating
16,9
Heaters ΑΗΚ
4,8
Fire Place
7,3
Heater (movable)
39,3
Stove (nonmovable metal)
0,6
Other
0,2
No heating system used
1,6
HEATING EQUIPMENT DURING THE REFERENCE YEAR / HEATING SYSTEM
(%)
< 1 month
0,3
1 month
1,4
2months
11,0
3months
26,2
4months
41,8
5months
14,9
6months
4,1
> 6months
0,3
DAILY HOURS OF OPERATION MAIN SYSTEM / HEATING EQUIPMENT DURING USE
(%)
<= 2 hrs
9,6
3 - 5 hrs
46,2
6 - 8 hrs
29,7
9 - 11 hrs
10,1
12 - 14 hrs
2,5
15 - 17 hrs
0,6
> 17 hrs
1,3
SOURCE USED FOR THE OPERATION OF THE MAIN SYSTEM / HEATING EQUIPMENT
(%)
Electricity
37,8
Heating Oil
27,0
Pure Oil
5,2
Natural Gas
22,1
Biomass
7,9
ANNUAL ENERGY CONSTUMPTION / HOUSEHOLD
Electricity
642 KWh
Heating Oil
331 litres
Pure Oil
42 litres
Natural Gas
50 kg
Biomass
231 kg

ANNUAL ENERGY CONSUMPTION FOR SPACE HEATING PER HOUSEHOLD
(in kilograms of oil equivalent)

(kgoe)
Electricity
55
Heating Oil
284
Pure Oil
35
Natural Gas
55
Biomass
83
Total
512
Latest Update 05/10/2011
COPYRIGHT © :2011, REPUBLIC OF CYPRUS, STATISTICAL SERVICE
Last updated: 04.09.2014
End use household energy consumption, 2009
Energy demand for hot water
AVAILABILITY HEATING SYSTEMS FOR HOT WATER AS PERCENT OF TOTAL HOUSEHOLDS
(%)
System connected with theCentral Heating
29,3
Solar thermal collectors
91,6
Autonomous Electric water heating with storage tank
3,6
Autonomous Natural Gas water heating with storage tank
1,0
Electric Thermitron
6,7
Natural Gas Thermitron
4,9
Other
2,1
PERCENTAGE OF HOUSEHOLDS THAT HAVE DHW STORAGE TANKS
95,9%
CAPACITY OF DHW STORAGE TANK
(%)
< 100 litres
2,7
100 - 149 litres
4,8
150 - 199 litres
79,4
200 - 249 litres
10,8
250 - 299 litres
1,3
>= 300 litres
1,0
ANNUAL ENERGY CONSUMPTION FOR DHW / HOUSEHOLD
Electricity
382 KWh
Heating Oil
24 litres
Pure Oil
2 litres
Natural Gas
8 kg
Biomass
2 kg
ANNUAL ENERGY CONSUMPTION FOR DHW / HOUSEHOLD
(in kilograms of oil equivalent)
(kgoe)
Electricity
33
Heating Oil
20
Pure Oil
2
Natural Gas
9
Biomass
1
Total
65
Latest Update 05/10/2011
COPYRIGHT © :2011, REPUBLIC OF CYPRUS, STATISTICAL SERVICE
Last updated: 04.09.2014
End use household energy consumption, 2009
Energy use for space cooling
PERCENTAGE OF HOUSEHOLDS WITH A/C UNITS FOR SPACE COOLING
80,8%
HOUSEHOLD AREA FOR COOLING PER HOT PERIOD DURING THE YEAR
(%)
< 51 m2
64,1
51 - 100 m2
24,2
101 - 150 m2
7,8
151 - 200 m2
2,6
201 - 250 m2
0,8
251 - 300 m2
0,3
301 - 350 m2
0,1
> 350 m2
0,1
MONTH AIR CONDITIONING UNITS DURING THE REFERENCE YEAR
(%)
< 1 month
2,1
1 month
4,5
2months
27,7
3months
25,4
4months
34,1
5months
5,0
6months
1,2
> 6months
0,0
HOURLY USAGE OF A/C UNITS DURING THE HOT PERIOD FOR COOLING
(%)
<= 2 hrs
17,7
3 - 5 hrs
41,1
6 - 8 hrs
26,8
9 - 11 hrs
9,9
12 - 14 hrs
3,6
15 - 17 hrs
0,6
> 17 hrs
0,3
Annual electricity consumption for air-conditioning area per household
1.107 ΚWh
Annual electricity consumption for air-conditioning space per household
(in kilograms of oil equivalent)
95 kgoe
Latest Update 05/10/2011
COPYRIGHT © :2011, REPUBLIC OF CYPRUS, STATISTICAL SERVICE
Last updated: 04.09.2014
End use household energy consumption, 2009
Energy use for cooking
| | |
| --- | --- |
| COOKING APPLIANCES AVAILABLITY PERCENTAGE PER TOTAL HOUSEHOLD | (%) |
| Electric Cooker | 33,7 |
| Natural Gas Cooker | 72,9 |
| Electric Oven | 77,9 |
| Natrual Gas Oven | 25,6 |
| Microwave | 65,7 |
| Kitchen Hood | 70,0 |
| Toster | 83,0 |
| Coffe Machine | 32,8 |
| Electric kettle | 75,9 |
| External cooker | 63,4 |
| Other | 24,4 |
| MEAN TIME WEEKLY USE OF COOKING EQUIPMENT | (hrs) |
| Electric Cooker | 6,4 |
| Natural Gas Cooker | 9,9 |
| Electric Oven | 3,8 |
| Natrual Gas Oven | 3,3 |
| Microwave | 0,6 |
| Kitchen Hood | 5,4 |
| Toster | 0,6 |
| Coffe Machine | 0,6 |
| Electric kettle | 0,7 |
| Other | 1,6 |
| HOUSEHOLD PERCENTAGE THAT USE THESE ENERGY TYPES FOR COOKING | (%) |
| Electricity | 94,5 |
| Natural Gas | 73,8 |
| Wood | 4,7 |
| Coal | 58,0 |
| Other | 0,0 |
| ANNUAL ENERGY CONSUMPTION FOR COOKING PER HOUSEHOLD | |
| Electricity | 554 KWh |
| Natural Gas | 67 kg |
| Wood | 11 kg |
| Coal | 48 kg |
| ANNUAL ENERGY CONSUMPTION FOR COOKING per household (kg oil equivalent) | (kgoe) |
| Electricity | 48 |
| Natural Gas | 74 |
| Wood | 4 |
| Coal | 34 |
| Total | 160 |
Energy use for electrical appliances and lightning
| | |
| --- | --- |
| AVAILABILITY OF VARIOUS ELECTRONIC DEVICES AS A PERCENT OF TOTAL HOUSEHOLDS | (%) |
| Fridge- Freezer | 99,0 |
| Fridge | 4,3 |
| Freezer | 27,6 |
| Water cooler | 52,9 |
| Dishwasher | 44,6 |
| Washing Machine | 93,7 |
| Dryer (seperate) | 30,5 |
| Washer- Dryer | 2,7 |
| Electric Iron | 96,2 |
| Vacuum Cleaner | 60,4 |
| TV | 99,1 |
| VCR or DVD Player | 64,1 |
| Stereo | 45,7 |
| Satelitte Dish | 29,9 |
| PC | 60,0 |
| Printer | 40,8 |
| Modem | 51,2 |
| Fan | 68,9 |
| Incandescent (normal) | 90,5 |
| Compact fluorescent lamps | 87,9 |
| Other | 26,3 |
| MEAN TIME WEEKLY USE OF ELECTRONIC DEVICES | (hrs) |
| Dishwasher | 3,9 |
| Washing Machine | 7,2 |
| Dryer (seperate) | 3,5 |
| Washer- Dryer | 5,3 |
| Electric Iron | 2,5 |
| Vacuum Cleaner | 1,2 |
| TV | 45,9 |
| VCR or DVD Player | 2,5 |
| Stereo | 4,6 |
| PC | 31,1 |
| Printer | 0,7 |
| Fan | 15,2 |
| ANNUAL POWER CONSUMPTION FOR ELECTRICAL APPLIANCES & LIGHTING PER HOUSEHOLD | 3.603 KWh |
| ANNUAL POWER CONSUMPTION FOR ELECTRICAL APPLIANCES & LIGHTING PER HOUSEHOLD | 310 kgoe |
House hold properties
| | |
| --- | --- |
| NATIONAL HOUSEHOLD TYPOLOGY | (%) |
| Sinlge Family House | 50,0 |
| Dublex dwelling | 20,1 |
| Dublex dwelling | 21,7 |
| Terrace House | 6,7 |
| Other (i.e. utility house) | 1,5 |
| HOUSE PROPERTY ONWERSHIP TYPE | (%) |
| Private | 78,0 |
| Rental | 10,2 |
| Given for free | 11,8 |
| HOUSEHOLD AREA | (%) |
| < 51 m2 | 3,7 |
| 51 - 100 m2 | 24,8 |
| 101 - 150 m2 | 34,7 |
| 151 - 200 m2 | 18,8 |
| 201 - 250 m2 | 9,5 |
| 251 - 300 m2 | 4,7 |
| 301 - 350 m2 | 2,0 |
| > 350 m2 | 1,8 |
| YEAR OF CONSTRUCTION OF THE DWELLING | (%) |
| After 1971 | 17,9 |
| 1971 - 1980 | 18,8 |
| 1981 - 1990 | 23,9 |
| 1991 - 2000 | 20,2 |
| 2001 - 2003 | 6,0 |
| 2004 - 2006 | 9,2 |
| 2007 and later | 4,0 |
| PERCENTAGE OF TOTAL NUMBER OF HOUSEHOLDS WITH THERMAL INSULATION | (%) |
| External wall thermal insulation | 7,5 |
| Roof thermal insulation | 5,5 |
| Floor Slab thermal insulation | 0,8 |
| Installation of double glazed windows | 43,2 |
| Other type of thermal insulation | 0,4 |
| not thermally insulated | 54,4 |
Latest Update 05/10/2011
COPYRIGHT ©: 2011, REPUBLIC OF CYPRUS, STATISTICAL SERVICE
Last updated: 04.09.2014
Responsible for the content of this page:
CUT - Cyprus University of Technology
(contact information)